Alien Boy Preparing To Enter NFT Worlds Metaverse
Latest:
As of mid-April 2022 the doogle land isn't ready – but i connected my metamask and can earn WRLD token now in various games in www.nftworlds.com/play – i assume the doogle land will be here by the end of April or Early May 2022
These are some of the preview images Georgie Boy at TheAlienBoyNFT has been sharing in the discord.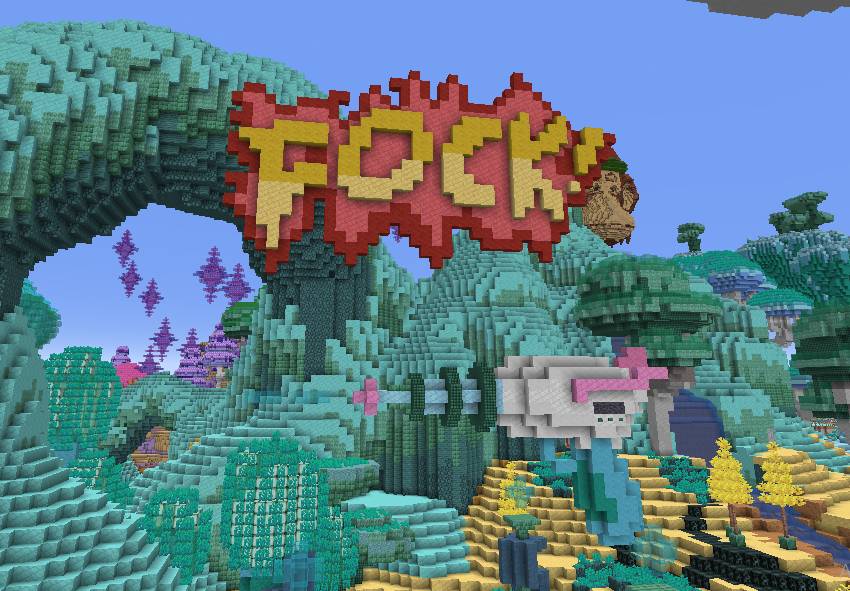 Been studying over the Easter weekend and here is what I have learned:
Minecraft Java Edition
We need a minecraft java account (one time payment of about 30usd to microsoft) at https://www.minecraft.net/en-us/store/minecraft-java-edition.
I was going to install the app on my computer, but realized it is better to skip installing Minecraft and go to NFTWorlds direct (next step)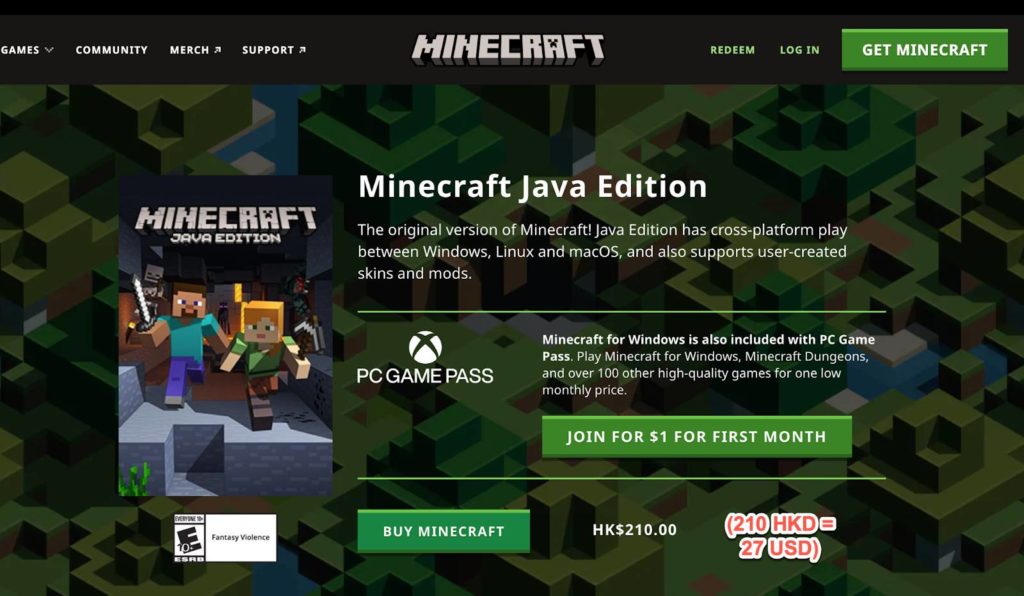 Download NFT World dAPP
Then we download the NFTworlds dapp at https://nftworlds.com/play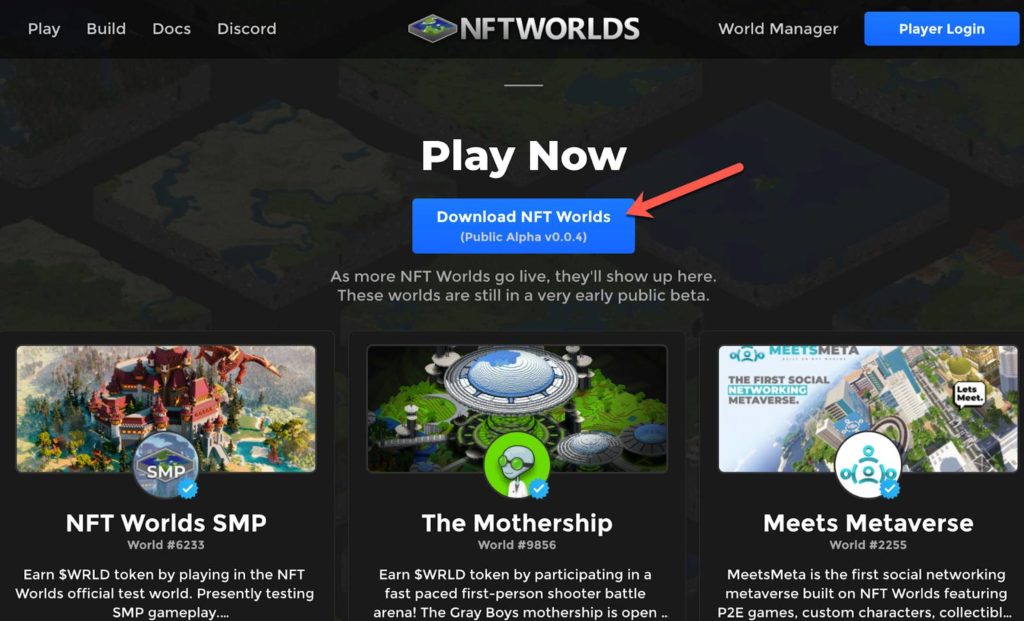 Login to NFTWorlds with our Microsoft Minecraft account
Once installed, and then signin w/ microsoft, and we can play around with some games to get the hang of it. (Note – no idea why the images are broken in my NFT Worlds app, but this is a screenshot)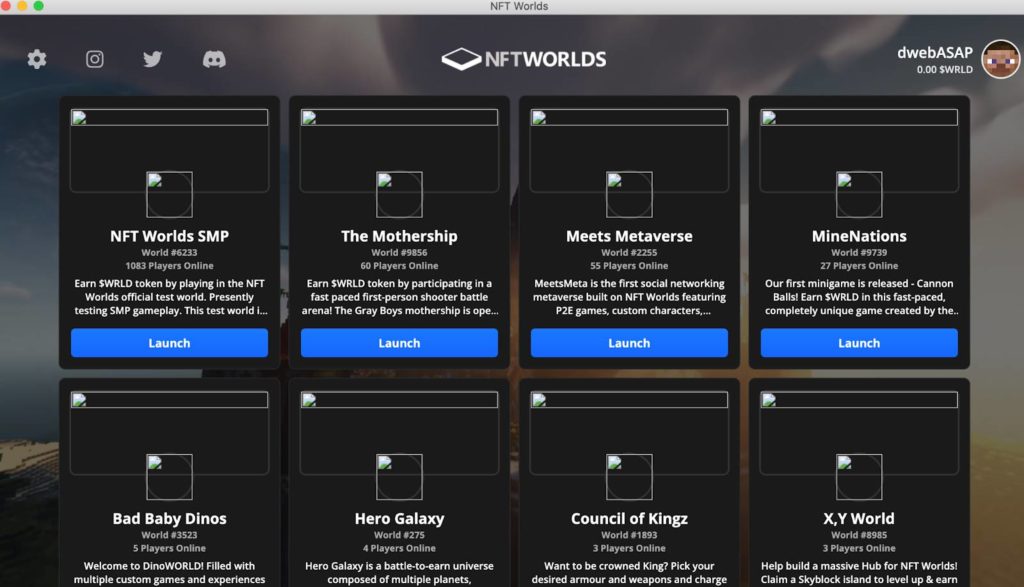 If you do not have Java installed, to launch, you will need to install Java.
Basically, follow the steps to download/install/sync/ launch.
Change their Default Crypto Wallet To Your Ethereum Wallet
NOW – this is where it gets interesting!
Once we have followed the steps above, then we can go to https://nftworlds.com/account to connect our metamask . You don't have to change to your metamask wallet instead of their default wallet, but obviously if we want to use our own crypto wallet and our own NFTs – we would need to do this: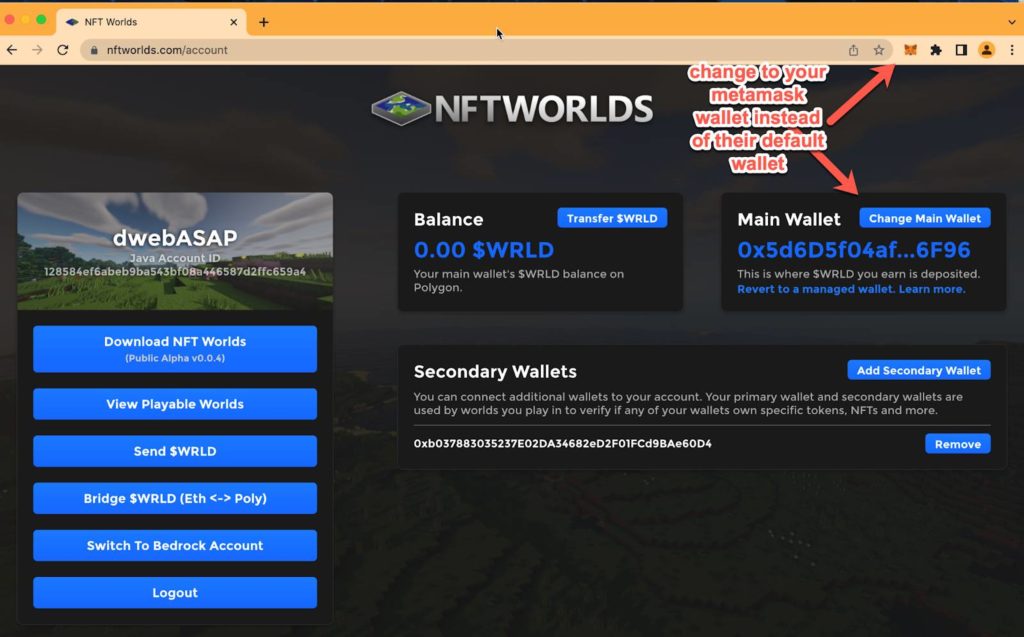 Verification We Have NFTS in our Wallet to Join Worlds
Now, when we play NFTWorlds.com, using the NFT Worlds dApp – as I was playing other games, I noticed some would read my wallet and see I did not have a certain NFT required. It still let me enter the game, but I assume my avatar / my account / my benefits would not be the same as those who has the NFTs the require.
Here is an example of me playing in a game:
For The Alien Boy NFT holders
After these studies, I can imagine once the team releases the game, we will need to follow the steps above,
which verifies if we have the NFT (in this case for tad/tag/tau/tab) to enter various games.
It is also worth noting, the default NFT Worlds game earns $WRLD token. But – the NFT games can earn their own token (in our case $FOCK)
From their docs at NFTWorlds (https://docs.nftworlds.com/nft-worlds-tutorials/launch-your-metaverse)
The blockchain & $WRLD layer that directly integrates into your world can be used to do things like verify player ownership of your project's NFTs or other project NFTs (ERC721 or ERC1155). Our systems manage all of the automated mapping of players in game to their verified wallets behind the scenes.
Through this, you can quickly see if players that join your world hold an NFT from a collection, how many of those NFTs they hold, if they hold a specific NFT from a collection and more. Based on what they do or do not own, you can then assigned access, perks, content and more to them in-game in real time. Presently NFTs on Ethereum and Polygon are supported out of the box at this time.
This is ONLY the NFT Worlds Game (The Alien Boy has Sandbox + LifeForce Games too)
So what i have been playing with is the NFT worlds (not Sandbox or the @joinlifeforce worlds) – which Boomer says will have 10 mini games in this NFT world. I think that means there are 10 lands owned? And there will be portals to connect each (we saw teasers from Caos Boy showing doogle portal) – so if you have NFTs in various collections you can flip to different lands through the portal directly i am thinking
Good Video for Inspiration Of the Future of the Metaverse
This is not from the ALien Boy NFT project, but a builder in the NFT Worlds discord dropped this as I was browsing their discord, and it is A-M-A-Z-I-N-G!
Discord Announcement from: Fuyu eth🥑 | $WRLD | #IslandGang — April 16, 2022 at 8:58 PM
If you haven't seen this trailer for what @Builder: 1UP Nova one of our verified builder, is working on. Then you're def missing out.
The stunning visuals, and the story and passion portrayed in this is just… "One-up" :dance:
Mind-blowing work.
This is why we have one of the best teams onboarded. The best teams for the best metaverse ecosystem/platform out there.
Like, RT, Interact, If you haven't yet worldies. LFGGG :lfg:
This is Just The Tip Of the Iceberg! Metaverse is Becoming REAL
So I hope this overview is helpful for you. Don't just buy jpegs on opensea and try to flip them on twitter.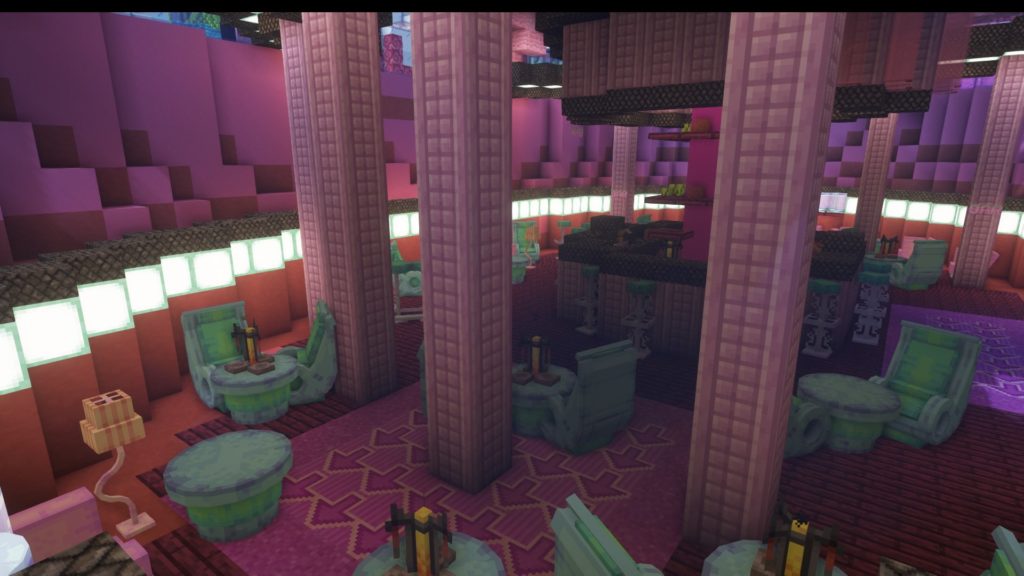 I believe in the summer 2022, the metaverse will become more and more accessible by the masses, and once techy realize theses "right click save" JPGs are actually NEEDED to enter games and earn P2E (play to earn) benefits, those who picked the right NFT projects with utlitiy will be rewards.
So obviously I am biased, as a holder of https://thealienboy.com NFT project, but if you want to get some exposure and NFTs, the entry point for this project is SUPER low – even as low as 50USD (.01 ETH) for Alien Doogles – as of typing this up.
If any of these games do 10% of what I am expecting, that price will not last long at all.
As always, don't blindly listen to an anon on the internet – DYOR (do your own research), but also keep an open mind, embrace this change in society, and decide where you want to be.